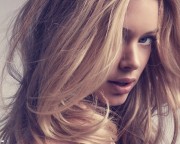 Born Doutzen Kroes
January 23, 1985 (1985-01-23) (age 26)
Eastermar, Netherlands
Height 5 ft 10.5 in (1.79 m)
Hair color Blonde
Eye color Blue
Doutzen Kroes (Dutch pronunciation: [ˌdɔu̯tsən ˈkrus]; born January 23, 1985) is a Dutch model and currently one of the Victoria's Secret Angels. She started to work for the brand in 2004, became a Victoria's Secret Angel in 2008 and is currently considered one of the world's top earning supermodels.

Kroes has been featured on the covers of Time, Vogue, Harper's Bazaar, Seventeen, Elle, Marie Claire, Glamour, W, Avantgarde, Dazed & Confused, and Numéro. She also appears regularly in the Victoria's Secret catalog and walked the runway of the company's fashion show in 2005, 2006, 2008 and 2009. Kroes's campaigns include Gucci, Tommy Hilfiger, Versace, Valentino, Blumarine and Calvin Klein for both their 'White' label and their fragrance 'Eternity'. In 2005, Kroes was selected as "Model of The Year" on Vogue.com by readers. She was presented on the May 2007 cover of American Vogue as one of the "World's Next Top Models" next to Chanel Iman among others. Along with several of these models, she appeared in the 2008 Pirelli Calendar.

In 2006, a Frisian documentary about a week in Kroes' life as a model was released. It documented Kroes at Milan Fashion Week and her thinking about the modeling industry. Director was J.J.M. Jansen.

In July 2007, earning at an estimated total of $1.5 million in the previous twelve months, Forbes named Kroes fourteenth in the list of the World's 15 Top-Earning Supermodels. In April 2008, she was in fifth position, with an estimated income of $6 million. In May 2009 and May 2010 Forbes named Kroes fifth again in the list of the World's 15 Top- Earning Supermodels.

Kroes is in the official Frisian provincial campaign for the Frisian language, her mother tongue.

Doutzen Kroes received the Lifetime Achievement Award, part of the Dutch Model Awards, in Amsterdam on May 12, 2009. The jury praised her achievements at her age.

At the end of August 2008, Victoria's Secret confirmed to People magazine that Kroes was to be the newest Victoria's Secret Angel. Her first campaign as the brand's newest Angel is "Supermodel Obsession". In September 2009, she signed to be the new face for Swiss cashmere label Repeat for two years.

There is a wax figure of Kroes in the Amsterdam branch of Madame Tussaud's wax museum.

As of November 2009, she writes a monthly column about her life for the Dutch edition of 'Marie Claire.' She has stopped writing as of Juli 2010.

Currently, she is signed by DNA Model Management.

In February 2010, Kroes returned to the catwalk during fashion week for Prada with fellow Angels Alessandra Ambrosio and Miranda Kerr. Prada was praised by former editor-in-chief of Glamour, Cosmopolitan and Marie Claire magazines, Bonnie Fuller in her blog for using a curvy model such as Kroes for the fashion show.

Doutzen Kroes Victoria's Secret beauty close-up pics
Click On image To See in Full Size