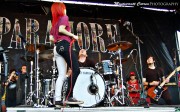 Birth name Hayley Nichole Williams
Born December 27, 1988 (age 22) Meridian, Mississippi, U.S.
Genres Pop punk, alternative rock, pop rock, punk rock
Occupations Musician, singer-songwriter
Instruments Soprano vocals, keyboards, guitars, drums and piano
Years active 2004–present
Labels Fueled by Ramen, Warner Bros., Atlantic Records
Associated acts Paramore B.o
Hayley Nichole Williams (born December 27, 1988) is an American rock singer, songwriter and the lead vocalist of the band Paramore.


Williams wrote and recorded the song "Teenagers", which was featured in the soundtrack for the film Jennifer's Body. After the release of "Teenagers", Williams stated that she had no plans to establish herself as a solo artist. In 2010, she appeared on the tracks "Airplanes" and "Airplanes (Part II)" from alternative rapper B.o.B's debut album, B.o.B Presents: The Adventures of Bobby Ray. "Airplanes", later released as a single, peaked within the top ten in nineteen countries, including number one peak positions in the United Kingdom and New Zealand.

Williams is a Christian and has a tattoo of a cross on her right thigh.


Paramore

Paramore was created in Franklin, Tennessee in 2004 with Williams (lead vocals/keyboards), alongside Josh Farro (lead guitar/backing vocals), Jeremy Davis (bass guitar) and Zac Farro (drums). Prior to forming Paramore, the other members of what was soon to be Paramore had been "edgy about the whole female thing" of having Williams as singer, but as they were good friends she began writing with them and eventually became a member. The band has released three studio albums, All We Know Is Falling, Riot!, and Brand New Eyes as well as two live albums and three EPs. In June 2009, the band welcomed Taylor York (rhythm guitar) as an official member, although he had already been playing as a touring member with the band since 2007.

In 2006, Paramore started touring outside of the US for the first time, which included a headline tour of the UK and supporting British post-hardcore rockband The Blackout on the Give It A Name Festival in Europe.


Click On image To See in Full Size
Hayley Williams (Paramore) Hot images Warped Tour 2011