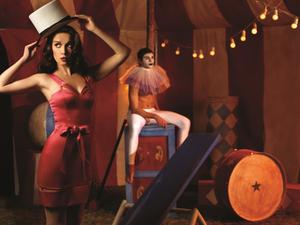 Birth name Natalia Marisa Oreiro Iglesias
Born May 19, 1977 (1977-05-19) (age 34)
Origin Montevideo, Uruguay
Genres Latin pop, rock
Occupations Singer, songwriter, actress, model
Instruments Vocals
Natalia Marisa Oreiro Iglesias (born May 19, 1977 in Montevideo, Uruguay) is a Latin Grammy-nominated Uruguayan singer, actress and fashion designer of Galician ancestry, who developed most of her career in Argentina. Natalia Oreiro began her career in soap operas. She has been included in Esquire magazine's "The Sexiest Woman Alive Atlas" list.

In March 2003 she started filming her second film Cleopatra together with Norma Aleandro, Leonardo Sbaraglia and Héctor Alterio, under the direction of Eduardo Mignogna, a co-production with Spain. In the middle of 2003, she started a tour for Eastern Europe and Latin America. On March 1, 2004 she started filming El Deseo. In 2006 she joined as the female boxer, Esperanza Munoz, in the cast of the telenovela Sos mi vida along with her Muñeca brava co-star Facundo Arana. It was directed by Rodolfo Antúnez and Jorge Bechara and broadcast by Canal 13. It began broadcasting on January 16, 2006 and ending January 9, 2007, and during its broadcast averaged 26.9 points overall rating. It was written by Ernesto Korovsky and Sebastian Parrotta, and won four Martín Fierro Awards and three Clarín Awards.

On April 30, 2008, Oreiro starred in Amanda O which is a series of internet television in Argentina and produced by Dori Media Group. It was first soap opera made for internet, and was seen by 550,000 users over Novebox.com, from Argentina, Uruguay and Paraguay during its first season and beginning of the second.

Click On image To See in Full Size





Natalia Oreiro in Las Oreiro spring/summer 2012 collection