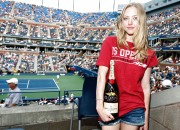 Amanda Michelle Seyfried born December 3, 1985) is an American actress, singer-songwriter and former child model. She began her career as a child model when she was 11 and at 15 she began her career as an actress, starting off with uncredited roles and moving on to recurring roles on As the World Turns and All My Children.

In 2004, Seyfried made her film debut in Mean Girls playing Karen Smith, the ditziest of the so-called "Plastics". Her subsequent roles as a supporting character were in independent films like Nine Lives (2005) and Alpha Dog (2006). She also had a recurring role in the UPN TV show Veronica Mars (2004–2006). Between 2006 and 2010, she landed a lead role on HBO's popular television series Big Love. After that, Seyfried appeared in her breakthrough and first leading role as Sophie Sheridan in the 2008 musical feature film Mamma Mia!. Other recent appearances include successful leading roles in Jennifer's Body (2009), Chloe (2010), Dear John (2010), Letters to Juliet (2010), and Red Riding Hood (2011).


Later in 2010, Seyfried starred in the romantic-comedy film Letters to Juliet, based on the book by Lise and Ceil Friedman. In 2010, she received an award and was named "Showest Breakthrough Female Star of The Year". She also won the "Scared-As-S**T" category for her performance in Jennifer's Body and was nominated for Best Female Performance for her movie Dear John, at the 2010 MTV Movie Awards. Also in 2010, she was included in Forbes's "The 17 Stars To Watch" list, received 3 nominations in the Teen Choice Awards for Choice Movie Actress Drama and Choice Movie Chemistry with her co-star Channing Tatum for their movie Dear John. Seyfried was also nominated for Choice Movie Actress Romantic Comedy for Letters to Juliet.

In late January 2009, she became attached to appear in Myriad Pictures' adaptation of Oscar Wilde's comedy A Woman of No Importance. The film is set to be released in 2011. However, 2010 reports indicate that the film might not happen due to lack of financing. Although it was confirmed in 2009 that she would appear in the movie Albert Nobbs, she ultimately dropped out due to scheduling conflicts and was replaced by Mia Wasikowska. Seyfried plays the lead role of Valerie in Catherine Hardwicke's Red Riding Hood. It was released on March 11, 2011. She will also play the lead role of Sylvia Weis in Andrew Niccol's In Time, set to be released in October 2011.

Click On image To See in Full Size
Amanda Seyfried attends The Moet Suite at the US Open